If you are struggling to find the best smartwatch for iPhone but not an Apple watch, you have come to the right place. This guide is going to satisfy your quest.
Because it includes the top 10 best smartwatches for your iPhone. Besides Apple watches, there are a lot of smartwatch brands in the market.
They are not less than the Apple series in terms of quality and performance. You may not want to purchase an Apple watch due to high prices or some other reasons.
However, you can get all the specs from other brands within an affordable budget. Let us first read the honest reviews on the 10 best smartwatches.
Then, we will consider the most important factors while choosing a smartwatch for your iPhone.
1. SAMSUNG Galaxy Active 2
Samsung Galaxy Active 2 is one of the most wanted smartwatches for the iPhone. It offers amazing features with a very affordable budget.
It is equipped with an automatic heart rate and sleep tracker. Further, it can monitor stress levels. Hence, it is a great companion to maintain a healthy lifestyle.
It is equipped with a built-in coach for voice commands. So, it makes fitness planning and tracking easier. It keeps a record of your exercise and fitness routine and provides results weekly or monthly.
This watch pairs over Bluetooth 5.0 with your iPhone. In addition, this watch also supports Wifi, LTE, and NFC. So, you have multiple connectivity options.
You can also accept calls on this watch. It has GPS tracking too. Samsung Active 2 offers 4GB onboard storage. The display measures 1.2"-1.4". While the band size is 20mm.
Active 2 has a very powerful battery that lasts up to 5 days on a single charge. While the battery takes only 60 minutes to charge fully.
It has an exclusive power boost feature for Samsung phones. However, it is still ideal for your iPhone.
In addition to functionality, you also look for aesthetics in a watch. Samsung Active 2 is really attractive and comes in 5 decent colors.
This Samsung watch comes in 2 build qualities; aluminum and stainless steel. You can pick either one, both are durable and light-weighted.
However, steel is a little heavier but still comfortable. It is weatherproof and sturdy.
PROS
Highly affordable budget with smart features
Bluetooth 5.0, Wifi, NFC, and LTE supported
Voice assistant for automatic commands
Great aesthetic value, comes in 5 colors
Keep track of exercise and sleep, measures heart rate and stress level
Long-lasting and quick-to-charge battery
CONS
Some features are unlocked only for Android devices
Screen glaring can be a problem in full sun
2. Fitbit Sense Smartwatch
Fitbit Sense is another amazing smartwatch for iPhone. It has a built-in GPS that measures your stress level, oxygen, temperature, ECG, and heart rate variations.
It offers more health features as compared to the earlier Fitbit version. Specifically, the stress identifier is a great advantage. It lets you manage your health and fitness routine conveniently.
This watch looks really attractive and adds classy value to your attire. It is made of aluminum with a sleek stainless steel finish.
While you can choose one of three elegant colors. The device is durable and weather-resistant.
The display is bigger enough measuring 1.58 inches. You can see the watch even in direct sunlight. It has a touch sensor screen to perform various functions.
It is equipped with an EDA (Electrodermal Activity) scan. This feature is very helpful in calculating the intensity of emotions and then calming you down.
The results are shown as a graph in the Fitbit app. Moreover, its temperature sensor warns you of an upcoming illness. It can also measure SpO2 levels and take ECG readings.
With the Fitbit Sense smartwatch, you can keep a record of walking, exercise, and calories burnt. It features 20 exercise modes that can be adjusted manually.
The battery lasts up to 6 days. However, it depends on usage such as activating GPS will drain the battery faster. It takes almost 2 hours to charge fully.
It features all the desired apps such as Facebook, WhatsApp, Gmail, meditation app, contactless payment, and many more.
You can also download Spotify, Pandora, and other apps. Further, you can receive calls and send text messages on your watch. It offers 2.5 GB of storage.
Another great feature is that it supports popular voice assistants such as Google Assistant and Alexa. So, at $200, Fitbit Sense is an ideal smartwatch for your iPhone.
PROS
Great features at a low cost
Supports popular apps and voice assistants
Features ECG, EDA, sleep, temperature, and exercise tracking
Sturdy, stylish, and attractive
CONS
The wrist strap lacks a buckle
Some features require a premium subscription
3. Garmin Venu 2 Plus
Garmin Venu 2 Plus is a perfect match for your iPhone. This is not an Apple watch but wins higher customer satisfaction. In fact, Garmin is loaded with a lot of features.
You will love to adore your wrist with this smartwatch. Garmin Venu 2 Plus is available in more than 15 different colors. In addition, it offers both circular and rectangular displays.
It has a crisp and vivid AMOLED screen of 1.3 inches. The screen glare is not a problem and is usable in bright sunlight.
There are 3 physical buttons on this watch to access the menu and perform other functions. It has a built-in microphone and speaker. So, you can make and receive calls on this watch.
It also supports Google Assistant. The onboard storage is 8 GB. Another desirable feature of Garmin Venu is its highly reliable connectivity.
It stays connected with your phone even from a large distance. This watch features the Garmin app store to install your favorite apps.
Further, it supports Spotify, Deezer, and multiple fitness apps. The built-in tracker counts your heartbeat many times per second. You can keep a record of all the data.
Moreover, it tracks your sleep, water intake, walking steps, route, accents, and other fitness information.
It can detect high-G events that mean the watch alerts your emergency contacts in case you fall during a workout.
One great advantage is that the battery is consumed very little in sleep tracking. The overall battery life is outstanding.
It runs up to 7 days on a single charge even with all the features. If you keep GPS turned ON and play music, still the battery timing is decent.
It has a 5 ATMS water-resistant rating. So, from all aspects, Garmin Venu 2 Plus competes with an Apple watch.
PROS
An elegant smartwatch with a versatile design and multiple colors
A lot of health and fitness features
Very strong and long-lasting battery
Highly reliable connectivity and a wider range
Performance and feature compete Apple watch
CONS
Limited notifications icon
A costly smartwatch
4. Fossil Gen 5 Carlyle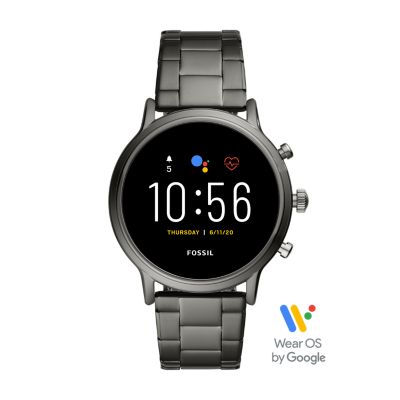 Fossil smartwatches are no less than other brands. Specifically, Fossil Gen 5 is a great choice for iPhone. Its price is quite reasonable and affordable.
It is available in silicon, stainless steel, and leather band. The watch comes in 6 different colors. The straps are changeable if you want to make them feminine.
Its design is elegant and stylish. The display is 44mm and you can see everything vividly. The watch is bigger than other smartwatches and also feels a bit heavier.
It has 3 physical control buttons to access the menu and other shortcut options. You can opt from multiple display options to add aesthetic value.
It has 1GB RAM and 8GB onboard storage. While it offers 3 custom battery modes. Connectivity technology includes Wifi, Bluetooth, NFC, and GPS.
It is also compatible with Google Assistant. You can receive and make calls using the built-in speaker. Further, it also features contactless payment options.
These features are a steal deal within a reasonable budget. Fossil Gen 5 features an optical heart rate monitor. Gen 5 smartwatch has a built-in altimeter, gyroscope, and accelerometer.
It features a 3ATM water resistance rating and is also weatherproof. It is compatible with Google Fit and also allows you to download other fitness apps.
So, this non-Apple watch is an ideal fitness companion for you. The only disadvantage of this watch is its battery. It runs for 24 hours only unlike other smartwatches that can run up to 5 days.
However, when it comes to advanced features, connectivity, style, and budget, Fossil Gen 5 must attract you.
PROS
Features 1GB RAM and 8GB ROM
Supports Wifi, Bluetooth, NFC, GPS, and Google Assistant
Built-in altimeter, heart rate monitor, and other fitness features
Low cost and best choice for iPhone
3 custom battery modes, 6 colors, and 3 straps
CONS
Lacks LTE and ECG feature
Battery timing is not ideal
5. Fitbit Versa 2 Smartwatch
 Vera 2 is another popular smartwatch from Fitbit. It is really attractive and identical to the Apple watch in design. This watch is compatible with iPhone 6 plus and other models.
Its salient feature includes highly affordable price, health and fitness features, and stylish design. This watch is available in 6 colors. Its rectangular display screen measures 1.4 inches.
The display is large enough to display notifications clearly. The band is comfortable and available in two sizes but unreplaceable. It's light enough to wear 24/7 with full comfort.
It scans your heart rate, sleep quality, stress level, calories burnt, and body temperature. It keeps a complete record of all types of exercise.
This watch is a great fitness guide for you as it keeps a detailed record of your sleep. It has 5 ATMs water resistance values.
Hence, you can wear this smartwatch while swimming. It features 20 different exercise modes.
The onboard storage is 2.5 GB. It supports all of the popular apps. You can make calls and send texts on this watch. It connects over Bluetooth 4.0.
However, the connection range is not wider as compared to costly brands. Other connectivity options include Wifi, NFC, and LTE. You can make mobile payments through this watch.
Moreover, it has built-in Amazon Alexa for voice control. It supports Spotify, Pandora, Deezer, and other famous apps.
The Fitbit Versa 2 features a 90-day free trial period for a premium subscription. So, you can decide easily before investing in a particular feature.
Its battery life is almost 6 days which is great for a low-cost smartwatch. However, the battery life depends on the usage.
PROS
Available in 6 colors and two band sizes
Free 90 day trial for Fitbit premium
20 exercise modes and various fitness features
Durable battery with 6 days running time
Light-weighted, comfortable, and identical to the Apple watch
CONS
Bluetooth range is limited
Does not support GPS
Also Read: Turn OFF iPhone Without Touching Screen
6.

Withings Steel HR Hybrid
Withings Steel HR is a classy smartwatch for your iPhone. The most amazing thing about this watch is its extremely powerful battery.
It is incredible to imagine a smartwatch that runs up to 25 days on a single charge. You can extend battery life for 20 more days by enabling power reserve mode.
So, it makes an ideal companion for your iPhone during longer vacations. It carries great aesthetic value. But, the price is still affordable.
It comes in 4 colors and different strap choices. You can choose from a silicone or leather band. Its display measures 1.4". It is light enough to wear with full comfort.
The watch is waterproof with a 5 ATMs rating and can be worn while swimming. In automatic mode, it keeps track of 30 fitness activities and exercises.
It also includes a built-in heart rate monitor. In addition, a sleep tracker and an accelerometer are also included. This smartwatch supports a lot of fitness apps.
You can also run popular social media apps on it. Hence, it is one of the best health and fitness guide.
It is equipped with Bluetooth 4.0 that has a narrow range as compared to Bluetooth 5.0. It works with Alexa for voice control.
Further, it supports GPS to track your route and to provide you with a map. The display is minimalist and decent.
You can perform all the functions like sending texts and reading app notifications. However, it cannot accept phone calls. This watch features 4GB onboard storage.
Withings Steel HR Hybrid smartwatch integrates features and elegance together to make a perfect match for your iPhone.
PROS
Record-breaking battery life up to 25 days
Minimalist design, elegance, and features combined
Heart rate and sleep monitor
Light-weighted and comfortable
Best for iPhone within an affordable budget
CONS
Cannot accept phone calls
The display is small that some users may not adore
7.

SAMSUNG Galaxy Watch 3
Samsung is one of the most trusted brands. Their smartwatch series includes various versions. If you want a non-Apple watch, Galaxy Watch 3 makes a great choice for your iPhone.
Its health and fitness features are desirable. It has a built-in feature to record your ECG for 30 seconds. This watch features an automatic sleep tracker and many popular activity trackers.
It also has a voice assistant to read your texts during workouts. The built-in speaker provides you with good call quality. Moreover, you can use it for workout instructions.
Hence, this smartwatch is an advanced fitness instructor. Some of the features are exclusive to Android phones.
It comes in two different sizes and three elegant colors. The band is made of leather. While, overall, the Samsung Galaxy 3 looks attractive and decent.
The AMOLED display measures 1.2" or 1.4". It is water-resistant up to 50 meters. So, you can wear your watch during every sort of exercise.
The battery life is estimated between 24 to 48 hours. While the onboard storage is 8 GB that is pretty enough. This smartwatch allows you to download and use your favorite apps.
It works on Bluetooth 5.0, the range is wider and the connection is strong. So, it makes a reliable connection as compared to other smartwatches within the same budget.
It also features LTE, NFC, and Wifi connectivity. In addition, it has GPS functionality for keeping track of your route.
It features digital security to protect all of your data. The contactless payments option is also integrated into this watch.
PROS
Works on Bluetooth 5.0 and ensures a strong connection
Supports Wifi, NFC, LTE, and GPS
30 seconds ECG, sleep tracker, and other fitness features
Integrated voice assistant for workout guidance, calls, and notification reading
CONS
Some features are unlocked only for Android devices
Battery life is just one or two days
8.

Amazfit GTS 3 Smartwatch
Amazfit GTS 3 is a good choice for iPhone at a very low price. In terms of features and performance, it competes with Fitbit Versa. It attracts you at first sight due to its elegant design.
This watch has a rectangular display and looks just like an Apple watch. Its greatest advantage is that it gives you Apple-like aesthetics at a cheap price.
The screen size is 1.75 inches that are quite large. It supports 1000 nits brightness and is readable outdoor. So, you can see everything on the display clearly.
It has a silicon strap that has some drawbacks like trapping moisture. It also comes with an integrated GPS for fitness tracking.
In terms of health monitoring, Amazfit is no less than expensive smartwatches. Its battery life is 12 days which is pretty great for a budgeted smartwatch.
Enabling multiple features will reduce the battery life. However, it lacks some features like contactless payments, calls, and apps. This watch cannot store music and you have to pay via phone.
The back of the watch has a pair of optical sensors to measure heart rate and SpO2 level. It has two modes; always on-screen and wake features. You can wake the watch by lifting your arm.
It also helps you in keeping a record of your workout history and all sorts of exercise. Moreover, it scans your sleep and stress levels.
You can also check the weather, set alarms, and use the calendar on this watch. It has a 5 ATMs rating and is waterproof.
It also supports Alexa for online activities. Further, it features a built-in voice assistant for offline functioning. It supports Zepp App that includes health and fitness features.
It also allows you to change watch settings and to download more displays.
PROS
Powerful battery with 12 days running time
Both online and offline voice assistant
Apple-like display and attractive design
Offers a lot of fitness features
A low-cost smartwatch for iPhone
CONS
 Lacks built-in speaker
Does not have onboard music storage
9.

TOZO S2 Smartwatch
Tozo S2 is a newly launched smartwatch popular in 2022. This watch is compatible with iPhone. Its greatest advantage is its very low budget.
But, it does not compromise on battery timing and other specs. Its screen is rectangular with curved endings. The display is pretty large measuring 1.69 inches.
The watch is made of aluminum while the strap is of silicon. You can choose from three colors. Moreover, it features more than 50 faces. You can wear it with full comfort due to its lightweight.
It is fully waterproof and features a 5 ATM rating. Tozo smartwatch attracts you at first glance. Because it looks like an original Apple watch.
The display screen is bright, big, and stylish. This watch comes with a built-in Alexa for full voice control. It also integrates a built-in microphone for offline voice commands.
It lacks a speaker so you cannot answer calls. However, this watch allows you to reject calls, read notifications, respond to messages, and play music.
It integrates heart rate and sleep tracker. Further, this watch keeps a record of your SpO2 level. It is very efficient in activity tracking and works for all sorts of exercises.
You can know your emotional state, calories burnt, steps walked, active minutes, and all other things with this watch. Tozo Fit app provides you with more health and fitness features.
So, this smartwatch is one of the best fitness guides for you. In addition, the software is very responsive and easy to operate.
It features a 300mAh battery that runs up to 10 days. This long-lasting battery under a $100 budget is a steal deal.
PROS
The latest model of 2022 with highly affordable price
Equipped with multiple health trackers
Powerful and long-lasting battery with 7-10 days life
Elegant design and stylish display
Built-in Alexa plus offline voice control
CONS
Lacks a built-in speaker for calls
Does not have an app store
 10.

Ticwatch E3 Smartwatch 
Ticwatch is another popular brand in the market of non-Apple smartwatches. The Ticwatch E3 was released in 2021. It has a circular face and 1.3 inches screen.
While the watch is light enough to be worn comfortably. It has a plastic casing that makes it highly durable. It is available in multiple colors. You can replace the strap easily.
There are two physical buttons to access the menu and the Mobvoi TicExercise app. Ticwatch E3 is IP68 rated, it is resistant to both water and solid.
So, you can wear it anywhere anytime. Overall, this watch looks decent but not extraordinary. It features Snapdragon Wear 4100 processor. Hence, its software processor is fast and smooth.
The watch offers 1GB RAM and 8GB ROM. The battery life is 48 hours with fewer features active. However, it can run for 24 hours easily. It takes 2 hours to charge fully.
There is an Essential Mode that automatically turns ON if the battery is running too low. Ticwatch E3 is equipped with a lot of exclusive health and fitness apps.
You need to log in to Mobvoi to access certain apps. However, the rest of the apps work like Google Fit and provide you complete health care guide.
It can track your sleep pattern and presents you a complete data. Further, it has a stress relaxation feature too. In terms of accuracy, this watch competes Apple smartwatch.
You can measure heart rate and SpO2 level with its sensors. Moreover, it supports 100 professional activity and exercise tracking.
It also features GPS for tracking your route and following the map. It is compatible with all iPhone models. Unfortunately, some features are for Android devices only.
PROS
Features a lot of health and fitness apps
Upgraded software and fast performance
1GB RAM and 8GB ROM
GPS, NFC, speaker, and microphone are included
Fully weatherproof with an IP68 rating
CONS
Calls and message features not compatible with iPhone
The simple and basic design
Battery life is not ideal
Best Smartwatch For iPhone Buying Guide
You cannot randomly choose a smartwatch for your iPhone. Because each brand has its own limitations and advantages.
So, you need to keep forth your main purpose of purchasing a smartwatch that may be health and fitness tracking.
But, some users want extra features like Alexa, call and message features, etc.
Therefore, we decided to explain the most important factors to consider while buying a smartwatch for your iPhone.
Compatibility
The first and foremost thing you need to confirm is compatibility. All smartwatches are not compatible with iPhones instead they are specifically designed for Android devices.
That's why some of their features are unlocked only for Android users. You should choose a smartwatch with the latest OS version to use it perfectly with your iPhone.
iPhones running on older iOS versions may not sync smoothly with non-Apple devices.
Battery Life
The second important factor is the long-lasting battery. This feature varies across different brands. For example, Samsung smartwatches feature 24-48 hours battery life.
While some brands offer 10 days battery life. There are some exclusions too, claiming 25 days battery. However, 4-5 days battery life is ideal.
If you are okay with charging your smartwatch daily, 24-hour battery life is also good to go. It depends entirely on you whether you intend to use the watch 24/7 or just during workouts.
Smart Features
Some smartwatches are very basic and serve the purpose of health monitoring. They contain a lot of health and fitness apps.
So, track your sleep, workout details, ECG, temperature, heart rate, stress level, and other activities. Some have Alexa capabilities and offline voice assistants.
While some smartwatches function like a mini mobile device. You can make and receive calls, send texts, read notifications, and perform many other functions.
So, you should be very clear about your purpose for buying a smartwatch and choose the one accordingly.
Design, Style, and Comfort
You have to wear your smartwatch both indoors and outdoors. Hence, it is important to consider aesthetics. Choose according to your profession and gender.
Your watch should be decent and classy. Some people prefer minimalist design. If so, you should choose a simple watch with decent color.
Normally, smartwatches come in two different styles; round faces and rectangular faces with curved edges. The former design looks like an ordinary time-telling watch.
While the latter looks more like an Apple watch. Moreover, smartwatches are available in leather, metal, silicon, or plastic strap. Choose the one that offers greater comfort and carries lightweight.
Durability and Weather Resistance
Generally, the basic aim of buying a smartwatch is to track your health, daily activities, and exercise patterns.
So, you should choose a durable watch that has a higher weather resistance rating. Because you have to wear it during exercise while you sweat.
You may also need to wear your watch while swimming. Therefore, 5 ATMS waterproofing value is good. It means your watch can be submerged up to 50 meters underwater.
Similarly, check the IP rating for solid resistance, IP68 is a good value. Silicone straps are durable as compared to leather. Also, confirm that the screen is protected by tough glass.
So, you need to focus on the built quality to buy a durable smartwatch for your iPhone.
Cost-Effectiveness
Cost is another most important factor. Compare the cost and specs of different brands to get a clear idea. Some smartwatches are costly but lack essential features.
While others are cheap but come with more features. If you are discarding the Apple watch due to its high cost, choose a non-Apple watch at an affordable budget.
Also Check: How To Activate New iPhone From Old iPhone
Final Words
We picked the best smartwatches for your iPhone considering all the important features. We have kept in mind the price, specs, compatibility, battery life, style, and quality.
So, this guide provides you with a complete range of smartwatches. You can choose either one depending on your purpose, preference, and budget.
We suggest you select a watch with a long-lasting battery, stylish design, great comfort, and extra features. In this way, you can have the best experience with a non-Apple watch.
Do not forget to tell us in the comment section which of our recommended smartwatches for iPhone (not Apple watch) you liked the most.